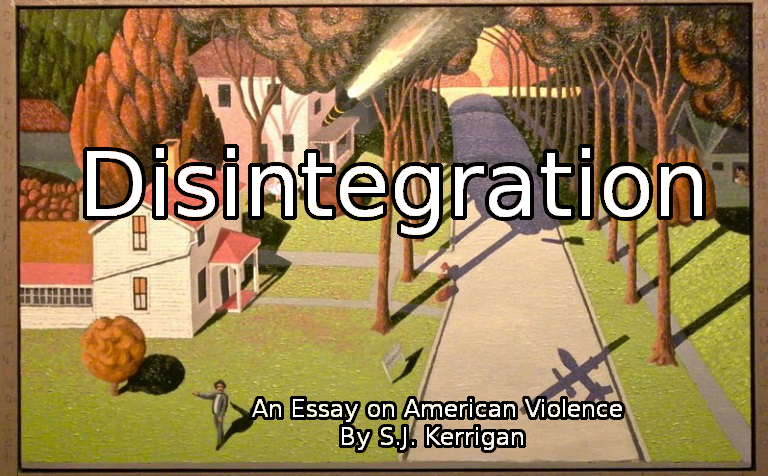 "One of the few good things about modern times," Kurt Vonnegut observed, "If you die horribly on television, you will not have died in vain. You will have entertained us."
Rarely a day goes by without another act of senseless violence occurring in the US. The motives seem to vary wildly: religious fanaticism, white supremacists trying to ignite race wars, family arguments and financial disputes to name a few. Like guerrilla revolutionaries scouring a concrete jungle, shooters can strike almost anywhere, often without warning. While clear statistics are difficult to find, the Washington Post reported that in the first 238 days of 2015, there was an average of more than one mass shooting every day.
Mass shooters often report feeling a broad existential loneliness. Nidal Hasan who killed 13 people and injured over 30 others at Fort Hood in 2009 lived alone and had few if any close friends. Last year, Elliot Rodger shot and stabbed seven people in Isla Vista, California. In a rambling video manifesto, Rodger condemned all women and said his actions were revenge for a life of "loneliness, rejection, and unfulfilled desires." Family members of Dylann Roof, who allegedly killed nine people in a South Carolina church last June, said he had become a troubled loner in recent years. The number of similar incidents is endless. A state of perpetual sadness has settled on the country.
Social theorist Marshall McLuhan once said, "All forms of violence, whether spiritual or physical, is a quest for identity… The less identity, the more violence." Violence is often seen as a way to bring purpose to a meaningless existence.
A person's identity or sense of self is never formed is isolation, but is always by our relationship with other people. When our sense of communal belonging breaks down, so too does our identity. We don't know who we are anymore, and in our madness, we think violence will provide the answer.
—
The motivation for random acts of violence committed by individuals is connected in fact, not in theory, with the regular violence sanctioned by the state. It is not a coincidence that as violence internally has grown, our government has been on a continual war footing, dominating or killing populations around the globe, transforming troubled, but peaceful nations like Iraq, Lybia and Syria into failed states.
While many are quick to condemn guns, prescription medication, or widespread poverty as the reason for mass shootings, pundits rarely make the connection with the more sanctioned forms of violence committed by the government.
Consider Officer William Wilson of Florida, who gouged a man's eye socket with his index finger — several times —until he ripped out the victim's right eyeball. Wilson is now serving a five-year sentence, but would have gotten away with the assault if not for the bravery of another officer who witnessed the attack.
The Miami Herald reported:
"This inmate was cowering under a blanket in the corner of his cell," Pisciotta recalled in an interview this week. "He was an older man, very frail and mentally ill. He wasn't trying to fight anybody. He was just scared. He was no threat to anyone."
He saw everything that happened, and wrestled with what to do.
"I knew that it was morally wrong. They wanted us to prepare statements and not say anything. I told them I just couldn't go along with it," said Pisciotta.
Of course, not all police are so brutal, but there can be no doubt that the militarization of police has risen steadily with complaints of unnecessary aggression, crossing boundaries of race and class.
So common is the absence of patience and civility, it's novel to even complain about it. On the internet, the nation's only remaining forum for intellectual discourse, violence takes the form of demeaning insults. Venomous aggression is on display in supermarkets, in traffic, everywhere in daily life. It's near ubiquitous. It is now the dominant coping mechanism for a life without meaning.
Violence has a paradoxical quality to it. It can only further isolate one from society. It swallows our civilization like a great flood, and–as the modernist and apocalyptic poet Yates wrote–"everywhere the ceremony of innocence is drowned."
---

If you enjoyed this content, please donate. Even $1 or $5 makes a difference. You can donate via Paypal (see tip jar to the right) or with