Judge Jed Rakoff is probably one of the few honest judges we have left.  He recently refused to accept an SEC settlement with Citigroup in which they sold mortgages and then bet against them, saying that the $95 million they were asked to pay was "pocket change" and required no admission of guilt.
"If the allegations of the complaint are true, this is a very good deal for Citigroup; and, even if they are untrue, it is a mild and modest cost of doing business," he said.
The judge is right.  If fraud charges are too lenient, businesses will make the  calculation that not only that they above the law, but that they can commit the same acts again and receive another slap on the wrist.  This can and has happened again, and again and again.  See this chart from the New York Times: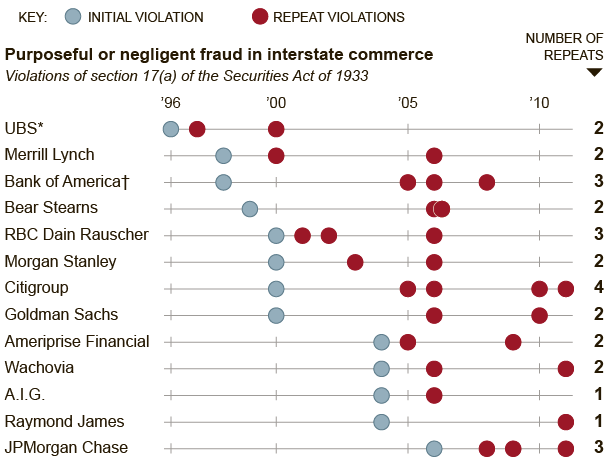 Citigroup has four counts of "purposeful or negligent fraud in interstate commerce."  Wow, what a record.  If corporations were people they'd be sent to jail!  So Rakoff throws the settlement out and demands a proper survey of the situation.  Of course, Citigroup doesn't like that, but what about the SEC?
"[The SEC said] forcing cases to go to trial solely because a firm refused to admit to wrongdoing would divert SEC resources "away from the investigation of other frauds and the recovery of losses suffered by other investors."
There are so many things wrong with this analysis I don't know where to begin.  
They mention in the article that they would not have received any additional money from a full trial.  This is ridiculous for two reasons: 1) A jury would certainly have no mercy for them and 2) Judge Rakoff would have final say over the severity of the penalty!  So what the hell is the SEC talking about?
With regard to resources, the SEC brings in almost double in settlements than the size of its budget.  It's a revenue producing agency!
Now, I know the Republicans want to reduce the SECs ability to prosecute and seek damages.  I've covered it with some degree of intensity (see: Republicans Defunding the SEC Means Higher Deficits), but despite our overtly corrupt government, the argument is still invalid.
Finally, and probably more importantly than the monetary issues are the issues of precedent.  The SEC says that getting a confession from Citigroup would hamper their ability to go after other abuses, but there wouldn't be other abuses if they were justly prosecuted as the criminal acts they are.
The critics don't suggest that Rakoff's reasoning is incorrect, merely that it is inconvenient and that it will likely "jam" the system.  Perhaps if every firm went to trial, yes, but many know they are guilty and would settle if they felt they had no choice.  These arguments are all paper thin.
It should be common knowledge to anyone who reads this or similar sites that the US has a dual justice system, one for connected elites and one for the rest of us, but its worse than that.  Fraud is now one of the fundamental functions of the American and international banking cartels.  Rakoff tries to instill some justice into the system and everyone makes irrational complaints!  It's almost as if there's systemic corruption.