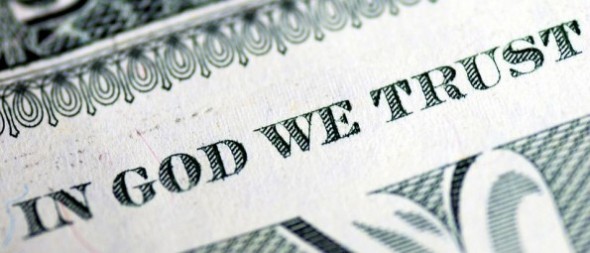 A lot of people I know claim they are not religious. If they had said they were not very religious, I could accept it, but to claim complete separation from religious thought is like saying "I do not get angry," or "I do not get hungry." It's self deluding. No one is entirely rational all the time and religion is one of many ways we explore our irrationality.
Irrationality is built into our physiology. Since our eyes cannot absorb information rapidly enough to accurately construct reality, our unconscious minds are constantly building approximations of the world around us. Our brain does not use the scientific method, rather it looks for patterns and approximates what it thinks is there, filling in the holes and providing a partially accurate, but mostly illusionary world view. This is why a room sometimes looks different after we've visited it a few times.
On a more conscious level, we are constantly building stories based on these patterns to make sense of the world around us — a very unscientific and often inaccurate process of information gathering, but necessary to deal with the psychic strain of a world that makes no sense to us. No amount of fact finding can fully satisfy our need to have a solid picture of the world. Religious activity isn't much different, except it operates in larger groups and is integral to all human societies. 
The Usefulness of "Reconnecting"
This discussion is complicated by the fact that my definition of the word religion is almost certainly different then most readers. The word religion comes from the Latin 'religare' meaning to reconnect, and that is essentially what religion is still about, reconnecting with the past or at the very least, reconnecting with a mythology or identity that traces its origin to a specific event.
Assuming you are in the United States, if you've ever celebrated the 4th of July, you have engaged in a religious activity. Our independence day allows us the opportunity to reestablish and celebrate what we believe is our origin story — the defining moment we became what we are, which in the case of Americans is often cited as being rugged, rebellious, and individualistic.
Of course, Americans are nothing of the sort. Today we are far more dependent on commerce than even the most metropolitan individuals of the 19th century, purchasing needed goods several times a week. We become fidgety without power to our phones, even for a few hours. Our lax response to the nation's growing list of problems would have made even the most successful tyrants in history salivate. None of that matters to the supposedly "secular" and "rational" participant of the 4th of July. The observance isn't about reality, but trying to make sense of the various narratives in his overworked head.
If there were such a thing as a hyper-rational human, there would be no need to reconnect with anything. People who claim to be hyper-rational do not observe days of celebration for the day our sun began the process of nuclear fusion or make special note to observe the anniversaries of any scientific discoveries. You might say, "Maybe we should," but celebrating holidays isn't about what happened 200 years ago or 2000 years ago, but what it says about us living today, who we are.
The benefits of religion is that it helps us be a little more like those we revere, to be a little more like our vision of Thomas Jefferson or Patrick Henry, defiant in the face of certain death, or a little more like Christ, generous when we'd rather be frugal. Even if we are a far cry from our inspiration, the observation makes us refocus our values.
Attacking Religion
Christians often complain there is a "War on Christmas" and of course, they are right, complaints about "holiday trees" and the like notwithstanding.  There is a war on Christmas, just as there is a war on everything else that is not homogenized into the actual national religion, that of consumer society. For Christians, Christmas is about reconnecting to their narratives, their identity, one that is constantly under assault (usually indirectly, though sometimes explicitly) from a hyper-consumerist society interested in little more than technological gadgets.
On a psychic level, Christmas serves an identical purpose to the 4th of July. It tells a group of people who they are so that they can deal with the world.
Religion is not about describing who died when and rose where and ate what; that is dogma. Religion is the little bit of irrationality that exist within all of us, even in those of us who like to pretend our beliefs are completely rational and based in evidence. Religion is our personal history that helps the world make sense.
Writing in National Geographic, writer Joel Achenbach cites psychologist Dan Kahan of Yale University who agrees, the average self-identified rationalist is not any more rational than those aware of their religious tendencies. He writes:
"Those of us in the science-communication business are as tribal as anyone else… We believe in scientific ideas not because we have truly evaluated all the evidence but because we feel an affinity for the scientific community. When I mentioned to Kahan that I fully accept evolution, he said, 'Believing in evolution is just a description about you. It's not an account of how you reason.'"
Those who believe they are rational are potentially among the worst promoters of irrational belief systems. Since they have an elevated sense that their worldview is sanctioned by unbiased experts, they are ready attack critics they are ready to perceive as being "anti-science." That they've never examined those reports first hand and are often unaware of how scientific reports can be misleading or outright falsified never seems to cross their minds.
Science on the Move
The self-congratulatory ally of science — who is ready to employ science and force to see his vision of the world become reality — is potentially far more destructive than zealots who wear their irrationality on their sleeves for all to see.
The problem isn't science: collecting information, developing a theory, and testing it. That is largely unopposed in this or any society. What is questionable is "Science the Ideology" which is not about acquiring knowledge for it's own sake, but for it's exploitative use.
Nation states do not invest in science because they are curious about the world; they do so because it is an effective means of controlling and (if necessary) killing people and the rest of the natural world. Multinational corporations do not invest in science to cure disease or to provide services to a growing population, but rather to make money.
Technology, the foremost child of science, works much the same way. The computer wasn't created so you can play games or write up word documents. The internet was not developed so you could research your biology paper. These technologies were created to control and kill people. To this day, development in these and other technologies continue primarily for that purpose.
Take for example, Daniel K. Riskin, a biologist and TV personality. Here he promotes his vision for a society that is ready to accept the dictates of the scientific community without question.
Riskin aligns the distrust of science with homophobia, racial bigotry and other irrational viewpoints. To be fair, he may have a point that fear of the unknown can promote bad behavior. However, he doesn't propose all people become hyper rational scientists, but rather he wants society to accept Science the Ideology. He believes that if a statement comes from the nebulous scientific community, it should be accepted on it's face. He will no doubt deny this is what he means, but that is the practical effect of "embracing science" without understanding it fully, which is not possible for most people.
I see two major problems with this line of thinking. First he is asking us to place a dogmatic level of trust in a system that has proven itself destructive to the natural world, including human beings, and continues to do so every moment of every day. He is not asking us to be scientists, but rather to trust in other scientists. The risk that corporate or governmental forces will abuse this trust and manipulate scientific findings for their own ends is extremely high. After all, they already do it all the time. (See: Journal of Advanced Practice Nursing: CDC cooked flu death estimates to sell vaccine.)
Second, an unquestioning belief that through scientific discovery we can solve the challenges facing the planet is highly dubious, since those problems are entirely caused by science and the exploitative power it gives us. I'm reminded of Yevgeny Zamyatin's 1921 novel, We, in which the author describes a dystopian world run by the certainty of mathematical and scientific constructs, where numbers and logic rule. Though the science of production has made many men rich over the centuries, it has done little more than provide electronic distractions for the masses.
The "Fear of science" is not a fear of objectively observed truths. Rather it is a fear of totalitarian powers who have no qualms about using or manipulating scientific findings for their own benefit. Make no mistake, the logical result of Rifkin's vision is an unchallengeable, state religion of centralized control and built on what he erroneously believes to be mathematical certainty.