Ted Sorensen, The Nation's Peacemaker
By Sean Kerrigan
Monday, November 1, 2010


This site began with an article about John F. Kennedy's presidency, what it meant to the country and what it should mean for us going forward. Yesterday speechwriter Ted Sorensen, a man central to Kennedy's ideological maturation, passed away. It's important to comment on how his vision for a peaceful world may have saved us all.

Most of the obituaries out today comment on some of the famous words he helped write, most notably in Kennedy's inaugural address when he said "ask not what your country can do for you, ask what you can do for your country." It's almost certainly the most quoted phrase by any president in American History. After working chiefly on domestic issues, the president brought him deep in to the administration's inner circle, especially when discussing foreign policy.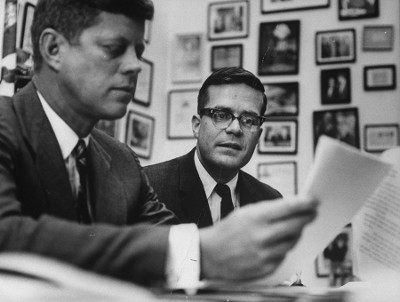 That much you can read on Wikipedia, but what you won't find there is how Sorensen's natural passifistic nature served to augment the president's own commitment to finding a way out of the Cold War. It might be going a bit far to say that he represented the philosophical core of the administration, but he was certainly the poetic core. His ability to communicate the administration's ideals to both the American people and to the leaders in the Soviet Union helped soften a relationship that nearly led to all out nuclear war.

In the film Thirteen Days (2000), Kevin Costner plays presidential aid Ken O'Donnell, who in the movie, helps provide a philosophical steadiness to addressing the Cuban Missile Crisis. Presidential historian Arthur Schlesinger said O'Donnell "had nothing to do with the Cuban missile crisis." Later, Secretary of Defense McNamara agreed and said, "It was not [O'Donnell] who pulled us all together—it was Ted Sorensen."

Sorensen went on to help write one of Kennedy's most definitive speeches. The "peace speech" at American University was coolly received by the elite press at the New York Times, but the (mostly) uncensored speech was extremely well received in Russia. Soviet leader Nikita Khrushchev said it was "the greatest speech by an American president since Roosevelt." Soon after, Khrushchev proposed a limited nuclear test ban which was signed about two months before Kennedy's death.

I don't want to get into comparisons between today's supposed 'visionaries' and Sorensen, but it should be clear that without him, the nation is a bit more coarse. May he rest in peace.


Further Reading:
Sorensen the Unitarian - UUWorld.org
Thirteen Days Does Not Add Up - HistoryMatters.edu
Sorensen, A Tribute - Huffington Post.org