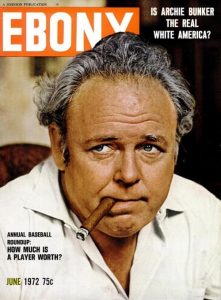 Remember Archie Bunker from the 1971 TV show All in the Family? In it's stride, it was a number one show and drew viewers from over 21 million households.
By the Hollywood standards of then and today, Bunker was a authoritarian, racist, sexist, anti-semite, homophobic "Nazi." He used nearly every religious and ethnic slur you can think of. For example, he noted that black men or "spooks" were natural athletes because, "It's in their blood… inherited from the time their forefathers were in the jungle running barefoot through all those thorns and thickets with tigers on their butts."
The show was meant to be a liberal morality tale and condemn Bunker's backward prejudices. President Richard Nixon described All in the Family as "that show that makes fun of a good man." Meanwhile, critics argued that it glorified prejudice because the character was well written enough to be relatable. Over time, they feared, the subtlety of the message would be lost.
But Bunker was also pro-union worker living in Queens, NY in the 1970s. By that standard, he would have indisputably been a Democrat. At the time, every real-life working class man of Bunker's position and temperament was a Democrat.
Why Norman Lear, the show's producer, wrote Bunker as a Republican is a mystery to me, but I suspect that as a lifelong Democrat, he simply couldn't stand to criticize his party which was in intense opposition to the hated Nixon. It was absurd to make him a Republican, but it was also prophetic, because in the 50 years since, Bunker has become Hollywood's preferred image of a white, working-class, middle-age male.
So which came first, the reality or the image? Perhaps they came into being together. Read More »