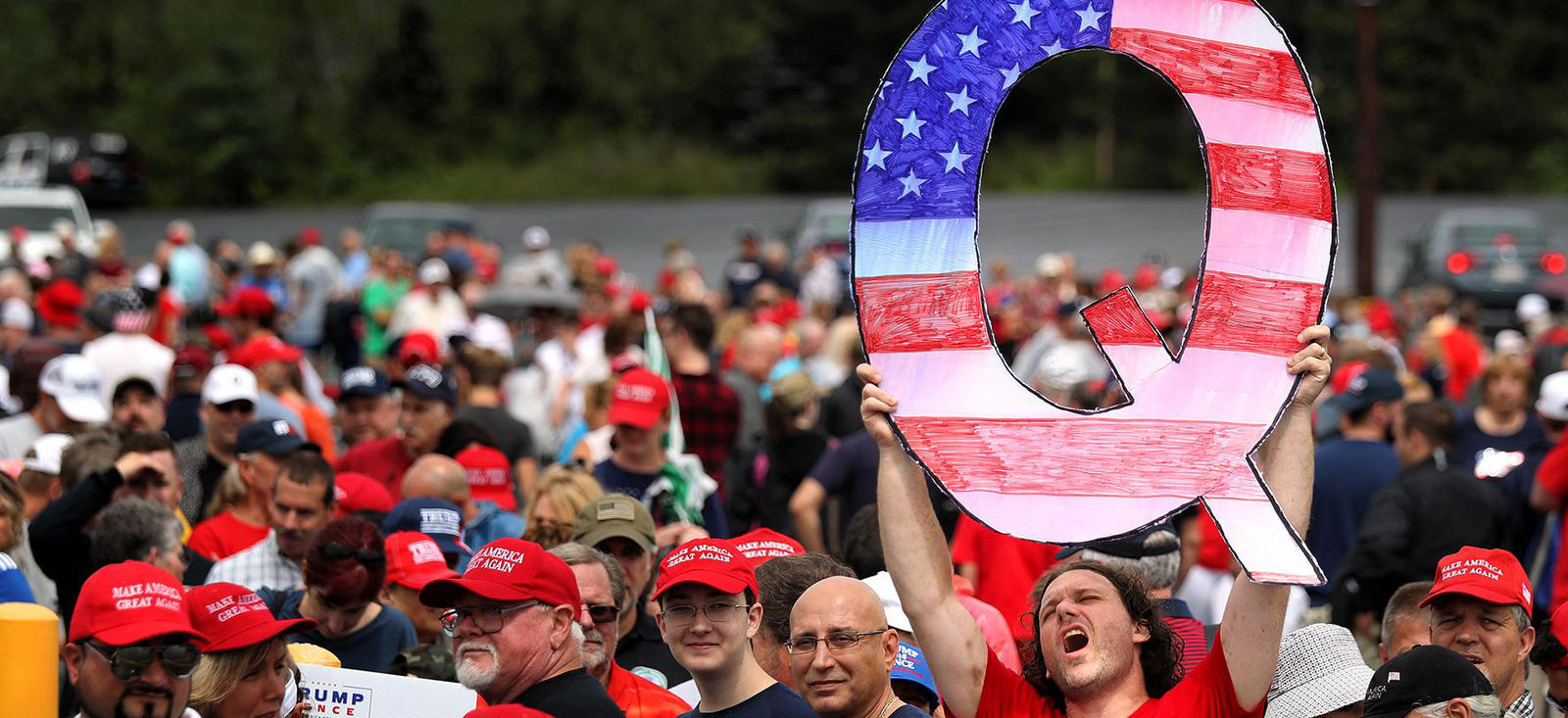 Every election cycle, voters hope that a savior or an organized group of righteous elites will come along and reinvigorate the economy, raise wages, restore communities, and reform broken institutions. When these bearers of hope fail to provide even a modest reprieve, the cycle begins anew. They hope that the next Clinton, the next Obama, and now Trump, will finally represent them. Every time the disappointment is greater and the resulting desperation more profound.
People trapped in collapsing societies will latch on to anything that can give them hope. And when leaders betray the people they are supposed to represent over and over again, the people eventually surrender to what anthropologists call crisis cults. Crisis cults form when large numbers of people, desperate for restoration of growth and success, surrender to magical thinking. They believe that an apocalypse will remake the world, punishing evil doers and restoring a moral society. It's the final stage in the psychology of a society before complete madness and collapse.
The most famous crisis cult in American history is the Ghost Dance of 1890. It was practiced by Native Americans after the US government broke the Treaty of Fort Laramie. Facing starvation after having their lands taken away and the destruction of the buffalo, the Lakota tribe turned to this newly invented ritual that would cause the ghost of their dead ancestors to return and fight the white man. 
While the dance was peaceful, the philosophy behind the Ghost Dance worried the US government. Believing he was a proponent of the movement, they arrested Sitting Bull. A battle ensued resulting in his death and eventually lead to the massacre at Wounded Knee.
The Q-Anon Crisis Cult
The form of these delusions depends on each person's individual biases and sub-culture. On the pro-Trump right wing, it manifests in Q-Anon.
For the last year, some members of the alt-right have been following an anonymous poster on 4chan and later 8chan named Q. He claims to be an insider with the Trump administration with "Q level clearance," a level above Top Secret. Q describes traitors, pedophiles, and deep-state globalists working to undermine President Trump.
Q's posts typically provide an alternate narrative to events in the news, often explaining Trump's behavior through the lens of a master tactician fighting a global cabal. They include little tidbits of information about various establishment personalities and invites readers to investigate their significance further using the Socratic Method. A typical post may look like this:
"What has been said about the U.S. Military?
The speech yesterday verified and unlocked so much.
Expand your thinking.
Re-read crumbs.
Re-listen to yesterday's speech.
Connect the 'markers.'
News (in all forms) unlocks the map.
Expand your thinking.
The Great Awakening.
Q"
Q-Anon doesn't need debunking. It's an obvious LARP or Live Action Roleplay. There have been similar posters on 4chan's politics board over the years. Why would a true insider with deep knowledge about government functions ever post on 4chan, a forum primarily read by 20-something-anarchists?
As time went on, Q became an undeniable fraud, with promises of a covert war between Trump and the Deep State spilling out into the open in the form of mass arrests repeatedly failing to materialize.
That hasn't stopped many Trump supporters from getting on board though. The mainstream media began covering it about two or three months ago once t-shirts and signs with the Q branding began appearing at Trump events.
Financially, Q-Anon is a hugely successful conspiracy theory. The Reddit page devoted to analyzing Q-Anon's posts, /r/GreatAwakening, has nearly 70,000 members. Q based merchandize like t-shirts, baby clothes, and charm bracelets spotted at Trump events can be bought on Etsy and Amazon. YouTube accounts that "decrypt" Q-Anon's posts have thousands of followers. One of the largest channels of this type, Destroying the Illusion has nearly 20 million views across hundreds of videos. Apps that compile Q's posts sell for a dollar, but have thousands of downloads.
While ownership of the Q handle has likely changed since its inception, Pro-Trump propagandist Jack Posobiec insist he has found the original 'Q' poster, a troll called Microchip, profiled here in Politico. Microchip previously managed a network of bots to push hashtags on Twitter, rally Trump supporters, and trigger liberals. Despite his support of Trump himself, he has contempt for most of the base.
"Conservatives are generally morons," he said. "It's like herding cats."
Microchip says he ultimately bailed on the operation because Q wasn't unifying the base, but rather took on the characteristics of an elaborate troll. He also worried about the complications that came with pretending to be a government employee with high level clearance.
"These people have no concept that their small group is turning into a Jonestown Cult." Microchip said. "That's dangerous. People are invested into this as if [Q] is a savior."
Defenders of the movement often claim it doesn't matter if Q is real because it has brought attention to important issues. Or supporters don't want to admit they were duped.
The Trump Impeachment Crisis Cult
This tendency toward magical thinking doesn't just reside on the right. It's infected middle class democrats and even the professional class of the left, all of whom are desperate to get rid of the "fascist Trump" who they argue is a major source of all that is rotten in America (rather than merely a symbol of it).
One friend of mine argued that both Trump and Vice President Pence would be pushed out of office by the end of this year, eventually to be replaced by Speaker of the House Paul Ryan. He was willing to put a hundred dollars on it. I declined to take him up on it out of pity.
There's no statement about Trump that is too outrageous for these people. One friend recently wrote that Trump's presence in the White House amounted to a national crisis comparable with the Civil War. Another told me about his boss who thought that, except for the crucification of Christ, Trump's election was the worst thing that had ever happened in all of human history. (One wonders, is there anything Trump could do to get over that line and be number one?)
Often, with rapt attention toward the Mueller case, they debate when (not if) Trump will be removed from office. Despite continuing for two years, Mueller has yet to put forth any evidence that would pressure the President to resign or for the Republican party to turn on him – essential for any successful impeachment.
Last week, the New York Times posted an anonymous editorial from someone in the administration who claimed to be obstructing the President's "worst inclinations." This author was described as a "senior administration official." A day later, the Times wrote that the number of people who meet that definition "probably numbers in the hundreds, at a minimum." The author provided no concrete examples of their obstruction. It concluded with a wink to the intended audience, an at-a-boy to the recently deceased Sen. John McCain.
The anonymous Times' writer is like Q-Anon for lefties. It's a way for people to pat themselves on the back and think their hopes for a better future is justified while they sit back and wait for real patriots to drain the swamp of corruption. For now, theories like these are allowed to metastasize to fuel voter turnout and donations in the upcoming midterms.
While not as outlandish as the Q-Anon conspiracy, it still raises the same questions. If this person is really on the inside at a high level, what could possibly be gained by communicating it to the public? It accomplishes nothing constructive, except to stroke the ego of the author and contribute to the left's money-driven crisis cult.
Also like Q-Anon, the left's conspiracy theories relating to Trump and his inevitable impeachment are populated by bad actors, public figures like Louise Mensch who pushed conspiracy theories relating to alledged Trump-Russia collusion forward. Notably she wrote: "sources say the death penalty, for espionage, being considered for @StevenKBannon" and claimed "[Rudy] Guiliani begged for a [plea] deal." Critics allege that Mensch is actually a troll working for the right wing in an attempt to discredit legitimate criticism of the President by entrapping desperate Democrats with the most extreme conspiracy theories.
Both the Q-Anon movement of the right and the desperate push to impeach Trump as a way to restore democracy by the left are crisis cults. Both are born out of a legitimate worry that American society is crumbling, its institutions are wildly corrupt, and there is no real hope to reverse these trends. Both are passively endorsed by political elites in the belief that it will drum up votes and donations for the upcoming midterms.
Crisis cults don't go away just because they are exposed as irrational. It doesn't matter if Q-Anon is realized as a fraud or if Trump serves as President for another 6-years, the underlying problem is one of diminishing hope, and with that comes the potential for violence.
UPDATE 9-12-2018: The day after this was published, Reddit purged the Q-Anon forum from their website, even though they are meticulous rule followers. Reddit has been especially active in banning controversial websites as part of the establishment's ongoing attempts to lock down dissent on the internet. Just before the 2016 election, I predicted: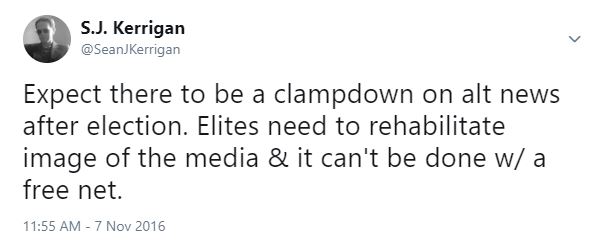 Update 10-28-2020: It was recently revealed that the anonymous editorial published in the New York Times was DHS employee Miles Taylor. As predicted, there were a number of lies relating to Taylor:
1) He was not a very senior administrative official.
2) Despite denials, he was involved in the family separation policy of the DHS and actively helped promote the policy.
3) Finally, Taylor himself lied both to the public and to his current employer (CNN) when he insisted he was not the anonymous editorial writer and book author.