A report recently published by two Japanese scientists describes the effects of a new invention they call a "speech jammer." When directed at a person speaking, it confuses the subjects brain, quickly causing him or her to fall silent. In essence, the device literally silences speech. 
According to the report, the "gun-shaped" device (what you could easily call a weapon) uses a microphone to record the speaker's voice.  It then replays the speaker's voice back to them at a slightly offset time interval depending on the distance.  The effect is called Delayed Auditory Feedback and is similar to hearing your own voice with a delay. It can be disorienting and frustrating for the speaker. The result is to "disturb remote people's speech without any physical discomfort" and forcing them to stop speaking.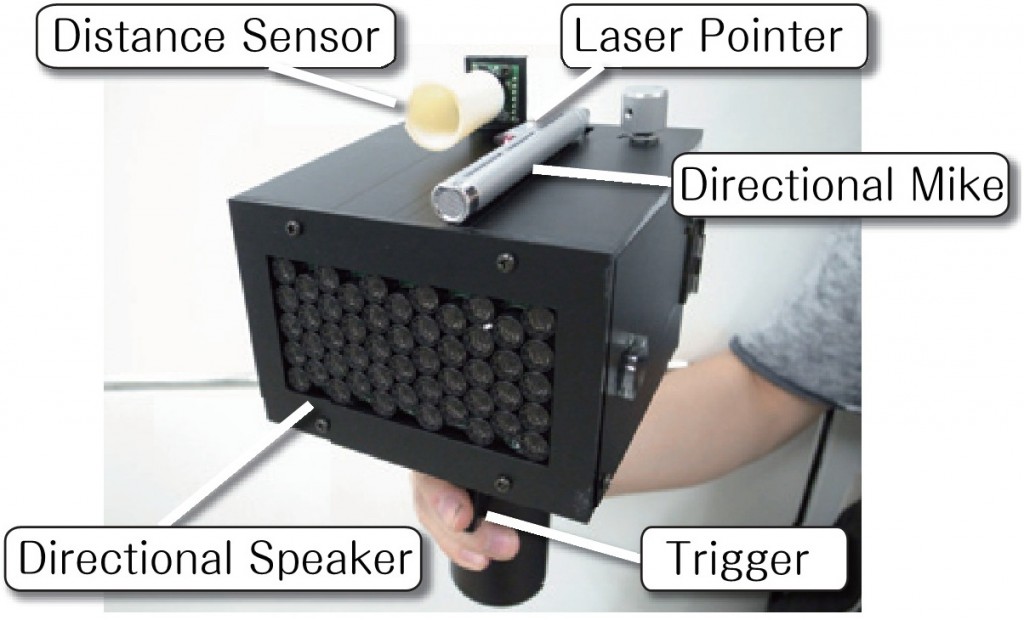 The device was developed by scientists at the National Institute of Advanced Industrial Science and Technology located in Tokyo and largely funded by the Japanese government. Their broader goal is to develop "technology-based solutions to problems of society."
Their report describes "negative features of speech," which they say can be curtailed by the device. The device encourages the speakers to obey proper "turn-taking rules" for speaking. The report also notes the gun can be used to silence those talking in "libraries or trains" where it is "not appropriate." The device can really be used at any venue including political rallies to silence hecklers or protesters.
The report describes two prototype versions, both of which are relatively simplistic looking devices. One of the prototypes can run on two AA batteries. It isn't difficult to imagine these simple electronics in the hands of police departments around the country during political events as it has a range of about 100 feet (30 meters).
The report does note that many of the variables including distance, volume and time interval between recording and playback require further adjustment and study. The device has other limitations as well. It cannot disrupt "meaningless sound sequences" such as booing and of course, it has no effect on the renegade speaker who comes prepared with earplugs.