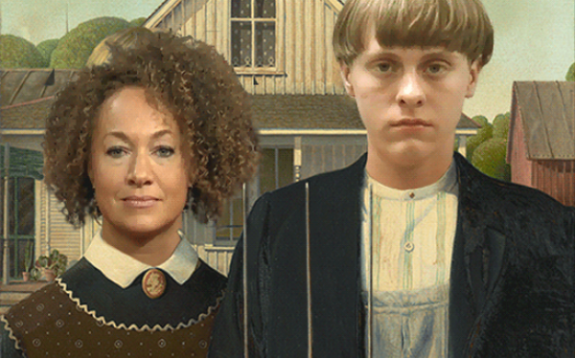 Grant Wood's "American Gothic" painting says a lot of about who Americans are deep down: one figure timid and seemingly almost traumatized, the other defiant, and both are dour. Their unhappiness stands in stark contrast with a beautiful setting behind. Dressed in black, there is a morose darkness to their mood. But the message of this parody is one of rage matched with delusional thinking, the contemporary American personified. I think it's a brilliant satire, an emblematic work of art in its own right.
Recent weeks have brought out the worst in this country, it's dependence on personal identifiers, its obsession with victimhood and the ownership of identity they think it provides, and of course our default go-to solution to solve everything: self-righteous violence!
Rachel Dolezal was both defended and condemned, not for anything she actually did, but because she identified herself as black, which is demonstrably false. Meanwhile, Dylann Roof's shooting rampage in a South Carolina church last week was influenced by a profound racial hatred and perhaps influenced by drugs including Suboxone, which can cause a variety of symptoms including depersonalization. Ultimately, like all violent acts now commonplace in America, his murder spree was a quest for identity. To quote Marshal Mcluhan, "Violence, whether spiritual or physical, is a quest for identity… The less identity, the more violence." 
There is no comparing Roof and Dolezal morally. Dolezal devoted her life to promoting racial equality, and Roof to just the opposite, but they both represent dominant aspects of the modern American psyche. They are both desperate, delusional people looking for meaning and identity in their lives.
The reaction from the American people hasn't been much better. Instead of showing compassion or attempting to understand these people, it has elected to attack phantoms. The controversy over the Confederate flag and other symbols of the Civil War is just the latest example of our obsession with form over substance. Across the country "social justice warriors" have pushed to have the flag removed from public display, citing it as a symbol of racism and division. The government and major retailers have obliged, granting them the illusion of progress.
Meanwhile, very real, non-symbolic injustices continue unchallenged. While pundits on the left attack the abstract symbols of power, real problems like mass incarceration, torture, endless war, the end of privacy, and widespread poverty are ignored. This is more than just a corrupt media distracting us with meaningless trivia. Americans literally cannot tell the difference between symbols and reality.
I write about this tendency for Americans to concentrate on the abstract rather than the reality of injustice quite a bit in my latest book, "Bureaucratic Insanity," due out soon. Here is a relevant excerpt:
Symbols are given added importance in a society struggling for meaning. For both for supporters and detractors, the Confederate flag it is more than just a symbol and rallying cry. The flag itself is worth fighting for or against.
The practical effect of removing or displaying the flag is rarely considered. Will it reduce racial tensions if the flag were banned from state legislatures and major retailers? Probably not. In fact it might inflame resentment. But critics do not care if the removal of the flag actually results in a change of reality. In a sane society, the flag is an abstraction representing the values of a particular people, but in an insane society, that nuance is lost. The underlying issues of identity, violence, and of course widespread meaninglessness are ignored as citizens make public declarations demanding the flag be removed.
In his classic 1979 book, The Culture of Narcissism, Christopher Lasch wrote, "When the images of power overshadow the reality, those without power find themselves fighting phantoms."
The real enemies of identity and true individuality are so pervasive, they can hide in plain sight, invisible to all but trained observers: our critics, poets, and social scientists. This is worsened by the fact that the controlling mechanisms of society rarely resort to brute force, preferring instead to obfuscate and distract, granting protesters small victories over the symbols of power while reality remains fixed. Lasch wrote that today's progressive politicking is little more than "theater, of dramatic gestures, of style without substance, a mirror-image of the politics of unreality."
Symbols are malleable, but they have some firmness to them in the individual's psyche. For the psychically bewildered, these symbols provide a short term bulwark against the maddening admission that nothing in their lives has any meaning for them. The result is a series of entertaining sham fights in the media, always ignoring practical problems that can't be solved in favor of symbolic gestures mistaken for progress.
It's why collapsing societies tend to build their most audacious statues and monuments right before they dissolve into history. Within a technological society, symbols are more important than reality which is increasingly ethereal, hard to grasp. We can't cure the poverty of the soul that afflicts so many, but we can change a flag.
Throughout the book, I tie all this together with meaninglessness as a broad sickness within the society, resulting in a kind of desperate struggle to find a cultural identity. This usually results in violence.
Violence can include racial hatred and mass shootings, but it can also take the form of a simmering hostility and a sanctimonious desire for absolute conformity. We think this removal of all discord and disagreement will help us make sense of a senseless world.
Fundamentally, this obsession with the Confederate flag from both supporters and detractors is evidence there is a crisis of faith in the country. Like the residents of Easter Island who continued to build monuments until their society became unsustainable and collapsed, we are struggling to erect new faiths to fill the void in our hearts roughly shaped like a soul.
To this end we have engaged in increasingly depraved, even sadist acts, punishing the weakest elements of our society to satisfy our insecurities. We suspend 10-year-olds for making finger guns in school, classifying it as a "level-2 look alike firearm." We charged a 7-year-old with misdemeanor battery because he threw a Tootsie Pop at his friend's head. We handcuffed an autistic 7-year-old to a chair and charged him with two counts of battery after he attempted to kick a school administrator and a police officer.
I've compiled hundreds of examples just like these. The inescapable conclusion is that large sections of the population are detached from reality. Without a connection to something real we can believe in, we have become violent in a desperate attempt to give ourselves a sense of purpose.
Sadism is the emerging characteristic of our time. Ultimately, it isn't racism or classism or any other type of -ism which perpetuates this new norm, but self-hatred resulting from a meaningless existence. The drive to punish with extreme prejudice is evidence of our hollow lives.
But violence has a paradoxical quality to it. It is a reaction to the absence of identity, but it only makes the problem worse. Violence disfigures the souls of perpetrator and victim alike. A shared faith becomes even more elusive, accelerating the process of dehumanization and meaninglessness.
While the United States may not have found a sufficiently honest demagogue (yet), symbols and the illusion of security they provide serve a similar function, giving order and meaning for people unable to supply it for themselves.
And what of the Confederate flag? This distraction will continue until, like always, the story exhausts itself or some other symbol comes under attack. We will then again rally around our respective sides, desperately clinging to our stories, pretending we are engaged in the real world. Like a spiral staircase, we will loop back around to some other banality, but always in descent.
---

If you enjoyed this content, please donate. Even $1 or $5 makes a difference. You can donate via Paypal (see tip jar to the right) or with