If there is any one word that will define the next 5 years, I would argue that it is "sustainability" or more specifically, "unsustainability." We are going to be repeatedly forced into discussing this because like it or not, much of what we do is unsustainable.
Our society is in denial.  We look at big trends and can't imagine they will suddenly collapse overnight. The establishment likes to feed into these illusions.  Try and remember if you've heard any of these arguments before:
"Buying land is a great investment. They aren't making it anymore. The housing market is going to come back."

"Healthcare is a safe and growing field because of all the Baby Boomers. Go to nursing school."

"If you want to get rich, go into finance. Go work for an investment bank."
On the surface, all of these industries look to be doing quite well. The housing market has stopped plunging. Jobs in healthcare and finance are plentiful and high paying, but even though it looks like smooth sailing, we've already hit the iceberg. 
This analogy to the Titanic might be a bit cliché, but it fits. For a while after the initial impact, the ship remained fully afloat. The power was on and the guests were calm, but when the crew examined the damage, it was clear that the ship was certain to sink. Still, they did little to prepare. Time to evacuate seemed plentiful. But once the problem became visually apparent, it was too late. There was no time to construct makeshift rafts or other plans. The evacuation was a hurried mess. Two thirds of the crew perished.*
It's difficult to imagine a catastrophe when everything is moving along normally as it has for most of our lives, but when one examines the facts of our economy rationally, its certain our ship is sinking.
Lets examine healthcare first, since its collapse is the clearest to see and will probably act as a catalyst for the other two. I've charted every single year of government spending on healthcare since 1970 in this graph. I've also included the projections provided by the Congressional Budget Office for 2012 to 2022. Click to enlarge.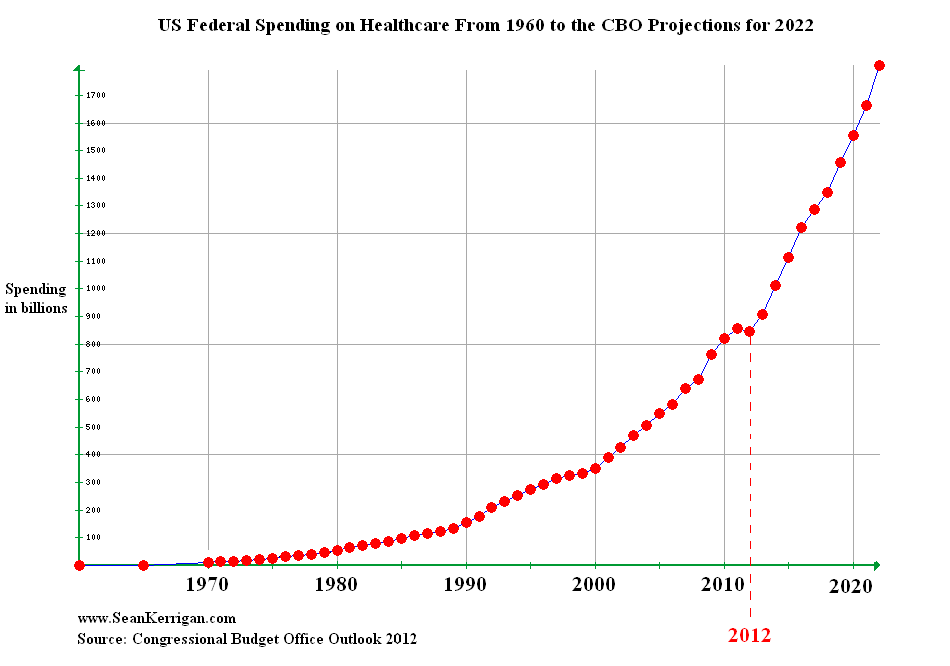 As you can see, the graph is trending upward on a curve. You'll note the distance between the dots is greater at the end of the graph. As we've explained so many times before, this is not linear growth, which is straight and easy to understand.  This is exponential growth. The cost grow larger, faster.
In addition, you can see there is a slight dip in the year 2012.  That's due to the Affordable Care Act (aka, Obamacare).  It didn't do much to save us though, and we're about a year away from an explosion in spending. According to these figures:
1) In the next seven years we will double the amount we spend on healthcare. Since we currently spend about as much on healthcare as we do the Pentagon, it would be like funding a whole second military.
2) Between 2013 and 2017, the CBO projects we will spend $5.5 trillion on healthcare. That's more than four times the cost of the wars in Afghanistan and Iraq combined!
These projections are straight from the government's own projections. Feel free to check on page 52 of the CBO Outlook for 2012. Here is the relevant section.
That said, none of this will come to pass. The graph is entirely fictitious because the government cannot pay those benefits without seriously devaluing the currency. Commentators that say that austerity is unnecessary or worse yet, that we can tax the rich to get out of this are either ignorant of the problem or they are lying. Politicians who say "we're not going to touch your Medicare" are also lying.
There are others who have made these same observations.  Senator Tom Colburn and Karl Denninger are two such examples.
Denninger mentions the Simpson-Bowls defecit reduction committee. Last year they agreed there will be a crisis within the next year or two. From the Wall Street Journal:
"This problem is going to happen long before my grandchildren grow up," said Mr. Bowles, who was White House chief of staff during the Clinton administration. "This is a problem we are going to have to face up to it maybe two years, maybe a little less, maybe a little more."
He said the crisis is "predictable" and will take place when "our bankers over there in Asia begin to believe we are not going to be solid on our debt, that we are not going to be able to meet our obligations. Just stop and think a minute what happens if they stop buying our debt. What happens to interest rates? What happens to the U.S. economy? The markets will absolutely devastate us if we don't step up to this problem. The problem is real. The solutions are painful, and we have to act."
Mr. Simpson, a former Republican senator from Wyoming, said, "I think it will come before two years."
That was about a year ago, so do the math. When government spending collapses, so too will demand. It doesn't matter how many Boomers need medical care, the money to pay for those services isn't there. Without demand, the industry will hemorrhage jobs. A near permanent hiring freeze will result. Wages for surviving employees will be cut dramatically. Again, while things look perfectly normal now, when government spending evaporates, so too will jobs in the industry.
Cuts to government spending will plunge the nation into a depression worse than we ever could have imagined in 2008. The debt is greater, the banks are bigger, the leverage is longer and the government has done nothing to prepare (except when it comes to building up the security state.  They're on the ball with that!).
While medical spending is probably the most immediate unsustainable industry in America, there are others which will be pushed into collapse with the rest of the economy. In 2010, almost half of Harvard University graduates went into the financial services industry. About one third of Cornell graduates did the same. With the near certainty of mass bank failures in the coming years, is anyone stupid enough to think this is a good idea?
Housing is another death trap doomed to suffer another decade or more of zero growth. Not sure you agree? Read Counterpunch.org.
*I have to give proper credit where it is due. Writer Charles Hugh Smith made this observation in his recent book, Resistance, Revolution, Liberation.