It's been almost 5 months since Hurricane Sandy devastated several towns and knocked out power to more than 8 million people across the east coast. The storm resulted in 72 deaths and thousands of destroyed homes and businesses. At $75 billion, it was the 2nd costliest hurricane in US history.
The lives of those directly in the path of the storm were immediately altered, placing even well prepared families at the mercy of government agencies. Tragic as it was for the thousands who lost their homes, it isn't uncommon for a hurricane to do that kind of damage to coastal towns. More unusual, is that the storm displaced or otherwise affected millions of people with long term power outages and disrupted commerce in an area not used to "roughing it."
At first, as is the case with such life altering situations, these people try to act as if nothing had happened for the first few days, but when things don't go back to normal, the psychological pressure builds. Eventually you can no longer deny that things have changed, that substantive changes to your lifestyle are going to have to happen in order to survive. They go through various degrees of the grieving process: denial, anger, bargaining, depression and finally acceptance. Most of us exposed to the storm only had to deal with the first or second stages before power was restored and life returned to normal, but even that was instructive. We got a good look at our own dependencies, our addictions we never knew we had. 
While this didn't seem to be a big deal to previous generations, even a day or two without power has resulted in younger generations feeling the symptoms of withdraw. People drove miles to find areas with power to charge electronic devices. Any place with power and WiFi was filled beyond capacity. Many were reduced to standing in long lines for what would have been considered trivial goods only a day or two earlier.
In one case, we heard about a hardware store running out of $1 bills, forcing buyers to surrender the difference if they couldn't break a larger bill themselves. No one complained, a rare occurrence these days. Surreal situations had become the norm.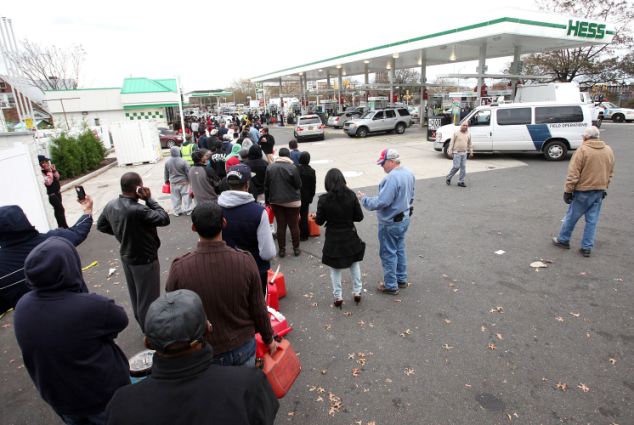 Gasoline was another problem that prompted unusual behavior. Approximately 80 percent of gas stations in New Jersey were closed in the days after the Hurricane. One man reportedly waited in line for 30 hours, but gas never arrived. While some pumps still had power and were working, the only way to reasonably transport it was by hand due to the miles of traffic in and around New York City's boroughs. On Craigslist, residents offered to sell their extra gas for $25 a gallon.
Eventually, gas rationing 1970s style was imposed. Gas cans were hard to come by. This led to people taking some rather creative approaches; one New Jersey resident said, "I am not exaggerating. People were coming in to gas stations with milk containers. I literally saw someone filling a flower pot with fuel. A flower pot!"
Areas that were harder hit had minimal access to cash or traditional means of funding. If your ability to access your savings or credit is removed due to a power outage, your limited to whatever cash you have on hand. In many families, this is probably limited to a few hundred dollars at most.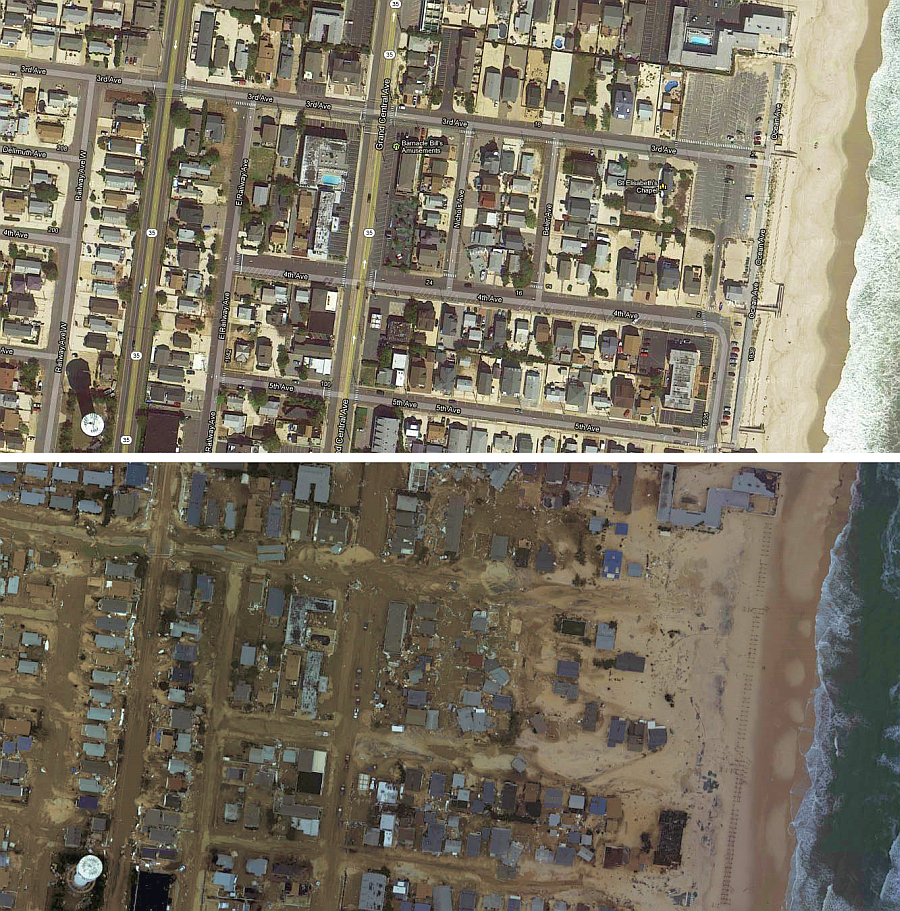 Commentators like Warren Pollock posted regular videos to YouTube documenting what he saw in north Jersey. He noted that while the cash economy was quickly constrained, it was still the only game in town. Barter as always was ineffective. He said, "$20 bills were essential. Nobody (except one guy who I bartered with for a generator) wanted to take silver. You could sell gold if you had to at a deep discount." For this disaster at least, King Dollar still reigned supreme. People hoping for dollar alternatives to appear were no doubt disappointed.
Despite these stresses, there was an invisible line that was not crossed. While difficulties remained in some cases for weeks after the storm, violent acts on a wide scale were noticeably absent. However, there were many reported crimes of theft. Destroyed homes were stripped of their copper and other valuables. Some towns resorted to openly threatening looters and trespassers with death.
It wouldn't be fair to say the government was completely absent in the days and weeks after the storm, but reports complained of widespread inefficiencies, squalid conditions and undelivered supplies. About a week into the relief efforts, bloggers were questioning whether Occupy Sandy volunteers were being more effective than FEMA at distributing basic food supplies.
Newly homeless residents were huddled into shelters, but many of them had no food, water, heat or electricity.  Media wasn't allowed inside the shelter. Residents who wanted to tell their side of the story needed to go across the street to talk to reporters.
Asbury Park Press quoted one resident at the time, "Sitting there last night you could see your breath. The Red Cross made an announcement that they were sending us to permanent structures up here that had just been redone, that had washing machines and hot showers and steady electric, and they sent us to tent city. We got (expletive). The elections are over and here we are."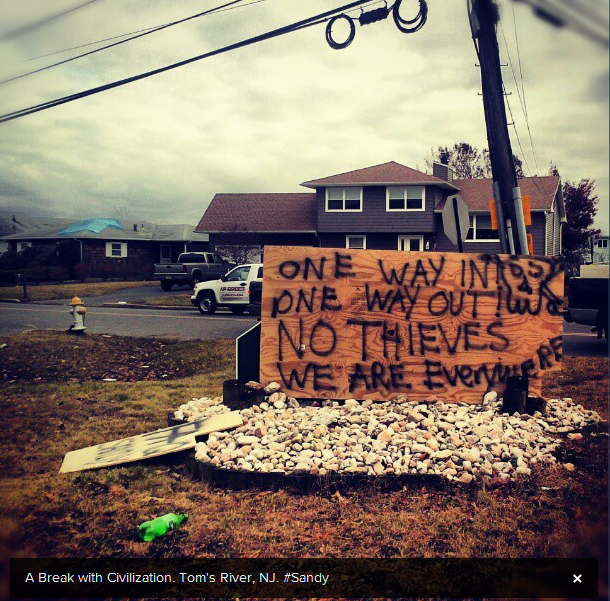 The article continues to suggest that the authorities were actively trying to prevent residents from contacting the media, even going as far as to cut off electricity to prevent them from charging their phones.
Nearby, residents erected this sign (pictured) to warn off looters. One poster on Zero Hedge wrote, "I live about 30 mi from that town. It's very blue collar. This sign was put up after people were patrolling the streets with shot guns and the police didn't stop them."
A mere 100 miles from the eye of the storm, we lost power for over a week. The sun was setting earlier every night; by 6:00 it was completely dark. This gave us a solid 6 hours before our normal bedtime with little or nothing to do. Reading was difficult or impossible; electronic mobile devices were quickly drained. Although not as bad as New York, our supermarkets and convenience store shelves were nearly barren.
I hate to admit it, but subtle as it was, I too felt the pressure, the desire to get out, to do something semi-constructive or social. And I wasn't wanting for heat or food. Fortunately, the gas was still running and there was easily enough food in storage to avoid having to go out. Still, it was unnerving to suddenly know how dependent we are on technology and power.